Welcome to the official website of Jiangxi Xinruifeng Biochemical Co., Ltd.!
Technical exchange to serve agriculture
---
  In order to better provide dealers with more appropriate and customized technical solutions, Xinruifeng and Guilin Baoge Agriculture launched a small-scale citrus coloring for dealers in five towns and villages in Yongfu County, Guilin on September 11. Flower bud differentiation exchange meeting; on the 16th of the same month, the second citrus coloring, germination and differentiation exchange meeting was held in the Golden Phoenix Hotel, Lipu County, Guilin City, which was a complete success.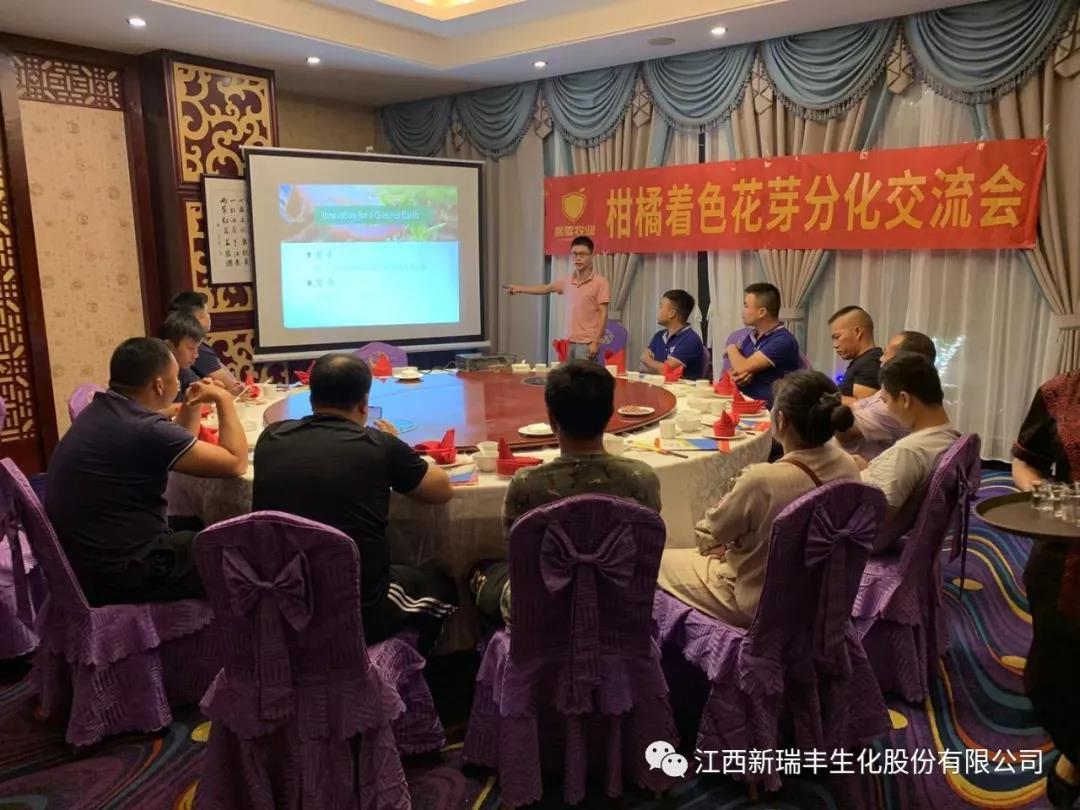 Jiangxi Xinruifeng takes the lead in the gibberellic acid market, and is also one of the two domestic enterprises with the production qualification of inducing antibiotics. Relying on the advantages of technical resources and advanced technology, Xinruifeng developed and produced "Zino" (5% inostatin soluble granules), after five years of market application and promotion, it is widely used in grape coloring, citrus coloring, persimmon coloring and other economical applications. There are very mature applications in the field of fruit coloring. At the same time, gratifying results have been achieved in the fields of citrus flower bud differentiation, Hainan mango control, northern cotton defoliation, and crop rooting and stress resistance.


  The on-site discussion was intense, and Huang Tao, the technical specialist of Xinruifeng Company, patiently explained the problems and solutions encountered in the application of the products to the dealers. At this meeting, the gold dealers in the industry learned about Xinruifeng, and shared and exchanged the "Zino+" citrus coloring flower bud differentiation plan.

  The amount of fruit hanging is large, the autumn shoots are average, and the tree vigor is moderate. The combination of the following pictures is better.


  The tree is strong and vigorous, the fruit volume is average, the humidity of the orchard is relatively high, and the autumn shoots are many and prosperous. The combination effect of the following picture is better.


  In recent years, the homogenization of pesticide products has been serious, and the products of low quality and low price have hit the market, and the price of pesticide industry has fluctuated significantly. The traditional infrastructure of Xinruifeng Company can ensure the quality of products, but it cannot well meet the needs of market applications and fast-growing modern business, and the transformation of agricultural services is imminent. Xinruifeng Company invested manpower and material resources to explore regionalized application technologies and demonstration fields, carried out agricultural material exchanges and demonstration observations, and worked hard with the goal of "making it for farmers" and "bringing farmers to work".
Jiangxi Xinruifeng Biochemical Co., Ltd.

No public

Douyin

Kuaishou
---
Service
QQ