Welcome to the official website of Jiangxi Xinruifeng Biochemical Co., Ltd.!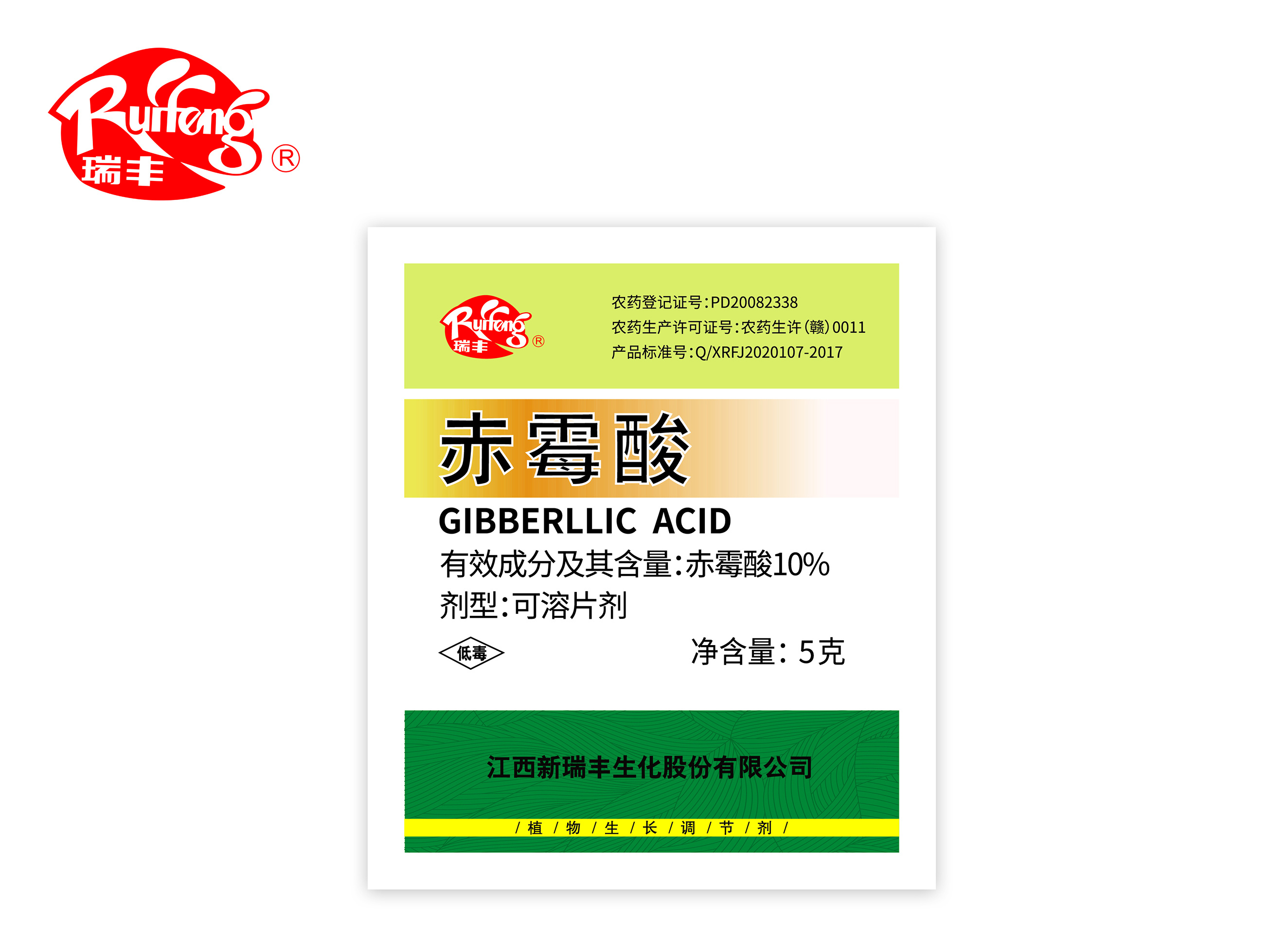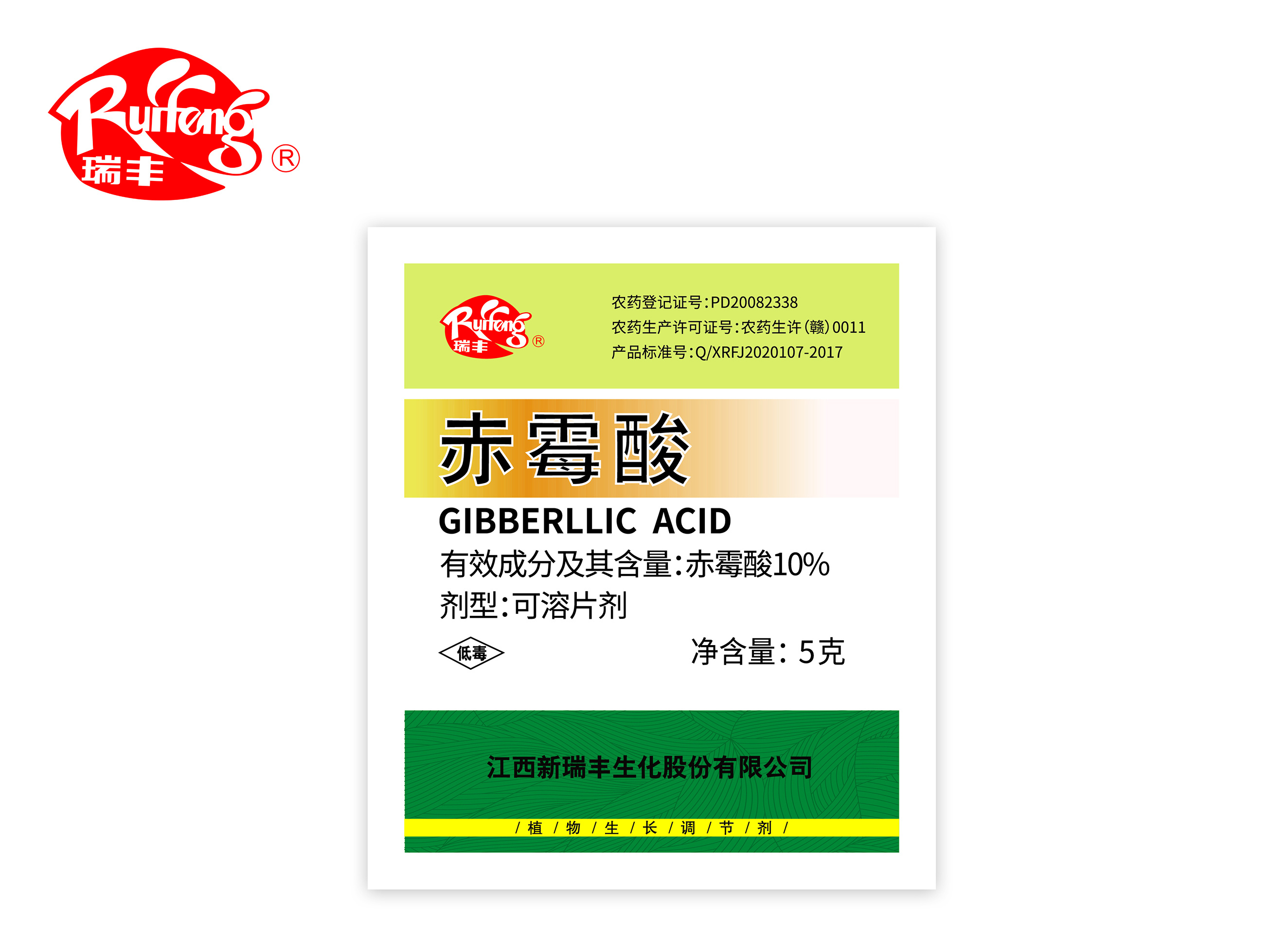 10% gibberellic acid soluble tablet
---
Specifications: 5g/bag×20pcs/box×30boxes/carton
10g/bag×20pcs/box×30boxes/carton

Gibberellic acid preparation

Messages
keywords:
acid
and
the
of
be
for
use
with
product
to
10% gibberellic acid soluble tablet
---

10% Gibberellic Acid Soluble Tablets Instructions for Use

Pesticide registration number: PD20082338
Pesticide production license number: Pesticide Production License (Gan) 0011
Product standard number: Q/XRFJ2020107-2017
First, product performance:
This product is a plant growth regulator, which can promote physiological functions such as cell, stem elongation, leaf expansion, parthenocarpy, fruit growth, and breaking seed dormancy. Gibberellin mainly enters the plant body through leaves, twigs, flowers, seeds or fruits, and then conducts to the parts where the growth is active. The company developed this product mainly for regulating the growth of rice.
Second, the scope and method of use:
| | | | |
| --- | --- | --- | --- |
| crops/sites | object of prevention | Dosage (preparation dose/mu) | way of administration |
| rice | regulate growth | 10-15 g/mu | Stem and Leaf Spray |
Three, technical requirements for use:
This product can be directly dissolved in water, set the amount of water at one time, and use it now.
Four, matters needing attention:
1. Use 1-2 times per season. 2. This product should be used alone, so as not to affect the efficacy. 3. Do not smash the tablet during use, the whole tablet can be completely dissolved in 25-30 ℃ water within 15 minutes. 4. Do not mix with alkaline pesticides and fertilizers. 5. The used empty packaging should be destroyed. All applicators should be cleaned with water or appropriate detergent immediately after use. 6. Pay attention to labor protection when applying the medicine, avoid contact with the skin, eyes and contaminated clothing, and avoid inhalation of mist droplets. 7. Strictly abide by the operating procedures for the safe use of pesticides. 8. Pregnant and lactating women are prohibited from contacting this product. 9. The used container should be disposed of properly, not used for other purposes or discarded at will. Pesticide packaging waste shall be returned to the pesticide operator in a timely manner.
V. First aid measures for poisoning:
In case of contact with skin and eyes, rinse with plenty of water and seek medical attention. If swallowed or inhaled, immediately send to the hospital for symptomatic treatment.
Six, storage and transportation methods:
When storing and transporting, it should be lightly loaded and unloaded, and stored in a dry, cool and ventilated place. Strictly prevent sun and rain, keep away from heat and fire sources, and do not mix or transport with alkaline substances, food, seeds and feed. Store out of reach of children and keep locked.
Jiangxi Xinruifeng Biochemical Co., Ltd.

No public

Douyin

Kuaishou
---
Service
QQ