Welcome to the official website of Jiangxi Xinruifeng Biochemical Co., Ltd.!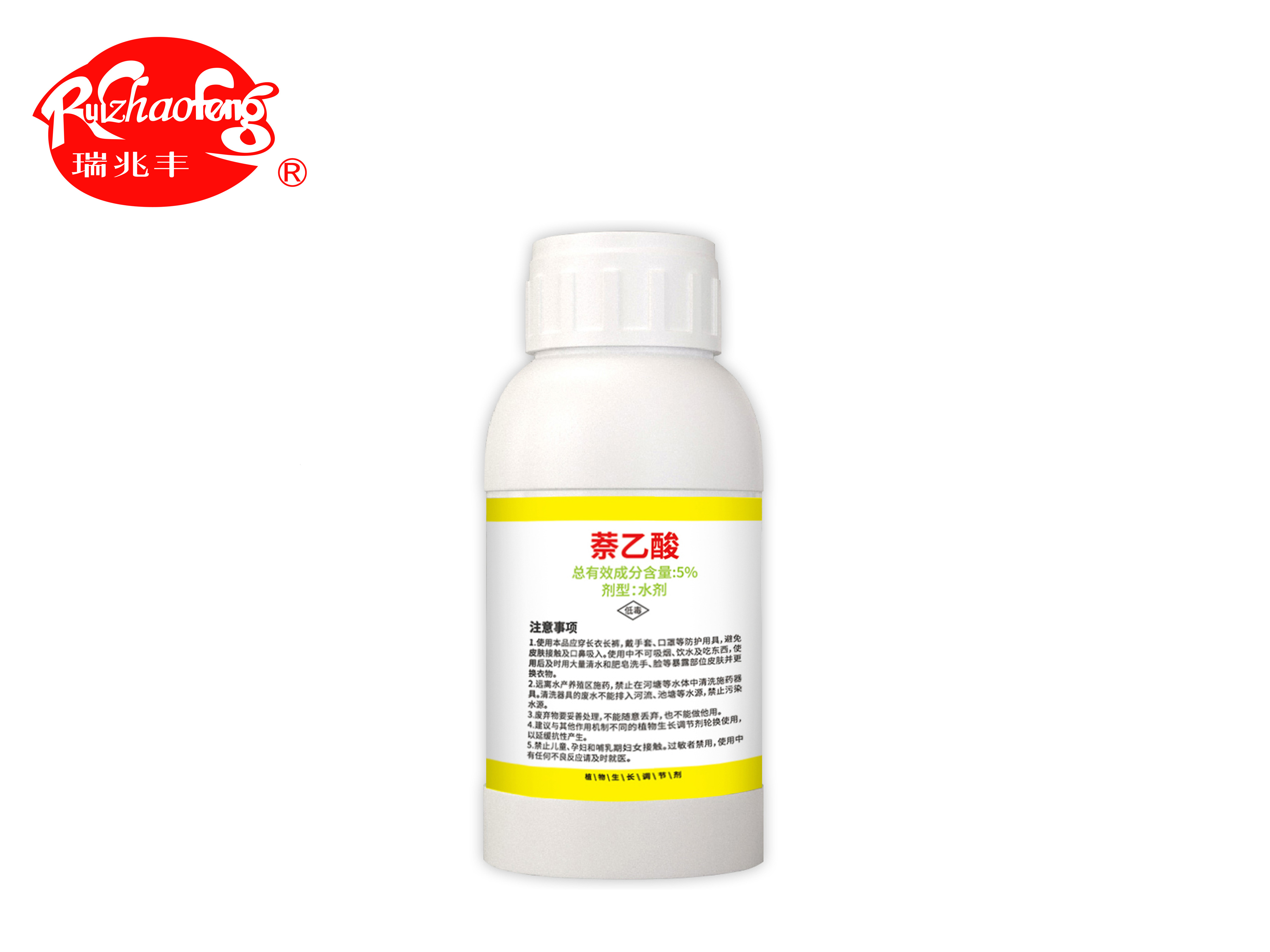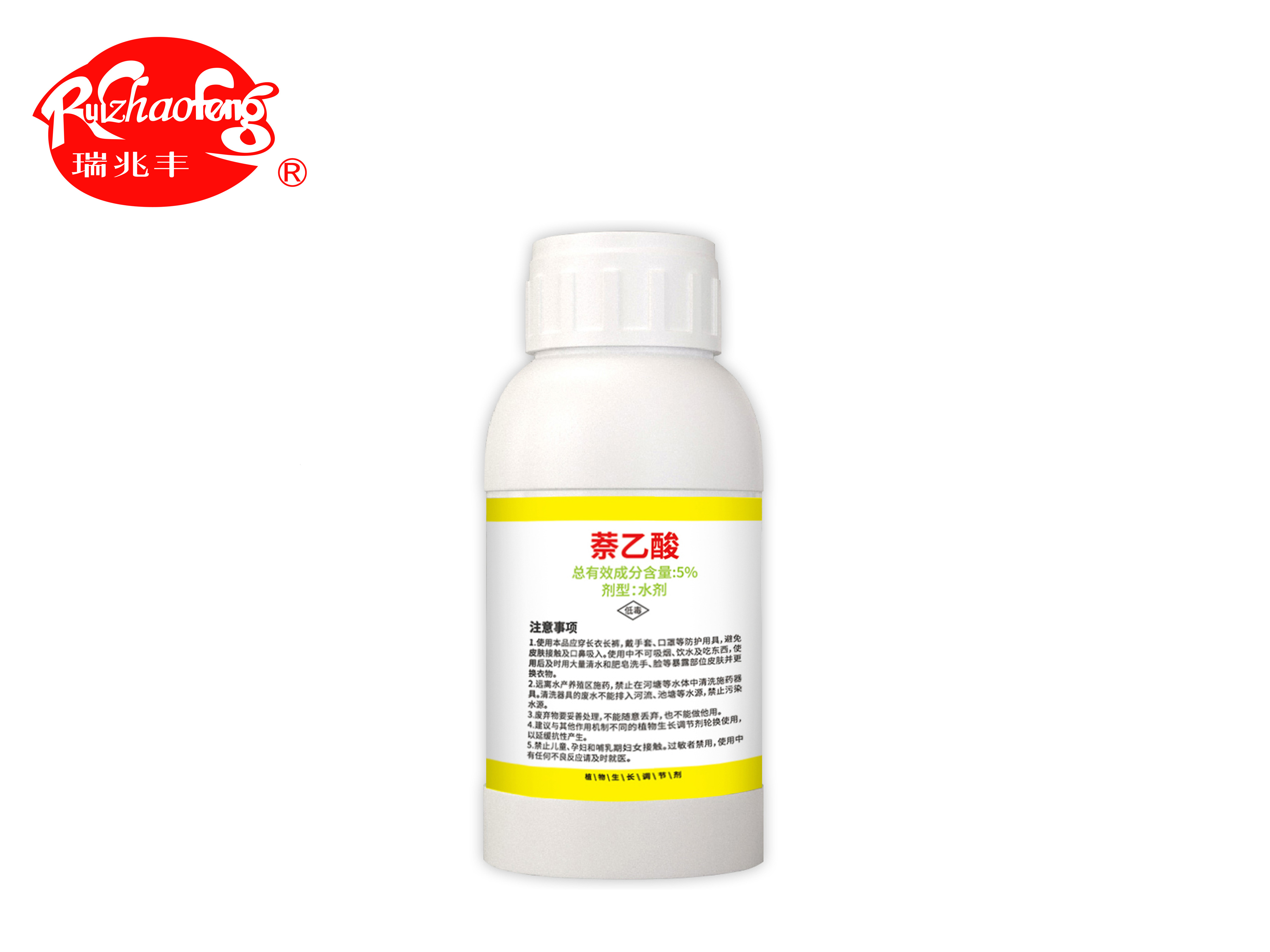 5% naphthalene acetic acid water
---
Specification: 10ml/bag×50bags/box×10boxes/carton
100ml/bottle×50bottles/box


Messages
keywords:
acid
and
the
of
be
with
to
should
water
immediately
5% naphthalene acetic acid water
---

Instruction Manual for 5% Naphthalene Acetic Acid Water

Pesticide registration number: PD20180555
Pesticide production license number: Pesticide Production License (Gan) 0011
Product standard number: Q/XRFJ2020134-2017
First, product performance:
Naphthalene acetic acid has the functions of regulating growth, promoting cell division and expansion, inducing the formation of adventitious roots, increasing fruit set, protecting flowers and fruits, accelerating the growth and development of young fruits, and reducing fruit drop; it can also increase the disease resistance and lodging resistance of crops.
Second, the scope and method of use:
| | | | |
| --- | --- | --- | --- |
| crops/sites | object of prevention | Dosage (preparation dose/mu) | way of administration |
| tomato | regulate growth | Dilute 3000-4000 times | spray |
Three, technical requirements:
1. The tomato should be sprayed on the flower during the flowering period, and the spray should be applied strictly according to the recommended dose. The second spray should be applied at an interval of 7-10 days. The spray should be thoughtful and even, and no heavy or missed spray. 2. Do not spray on windy days or before and after rain. 3. This product can be used at most 2 times per season. Tomatoes should be harvested at least 14 days after using this product.
Four, matters needing attention:
1) When using this product, you should wear long clothes and trousers, gloves, masks and other protective equipment to avoid skin contact and inhalation of mouth and nose. Do not smoke, drink or eat during use. Wash hands, face and other exposed skin with plenty of water and soap and change clothes after use. 2) Apply pesticides away from aquaculture areas, and it is forbidden to clean the spraying equipment in water bodies such as rivers and ponds. Wastewater from cleaning appliances cannot be discharged into rivers, ponds and other water sources, and pollution of water sources is prohibited. 3) The waste should be properly disposed of, and cannot be discarded at will or used for other purposes. 4) It is recommended to use alternate plant growth regulators with different mechanisms of action to delay the development of resistance. 5) Prohibit contact with children, pregnant women and lactating women. People with allergies are prohibited. If there is any adverse reaction in use, please seek medical attention in time.
V. First aid measures for poisoning:
Symptoms of poisoning: Poisoning through the esophagus, liver and kidney damage can be seen. First aid measures: If you feel unwell during or after use, stop working immediately, take first aid measures, and take the label to the hospital for treatment. Skin Contact: Immediately remove contaminated clothing, remove contaminated pesticides with a soft cloth, and rinse with plenty of water and soap. Eye Contact: Immediately lift eyelids and rinse with running water for at least 15 minutes. Inhalation: Immediately leave the application site and move to fresh air. Misuse: Stop taking it immediately, rinse your mouth with water, and go to the hospital immediately with the pesticide label. This product has no specific antidote, symptomatic treatment.
Six, storage and transportation methods:
This product should be stored in a cool, ventilated and dry place to prevent drying and rain. Strictly prevent moisture and sunlight during transportation, and the loading and unloading personnel should wear protective equipment and handle with care. Keep it out of the reach of children, irrelevant people and animals, and keep it locked. Do not mix and transport with food, beverages, seeds and feed.
Jiangxi Xinruifeng Biochemical Co., Ltd.

No public

Douyin

Kuaishou
---
Service
QQ